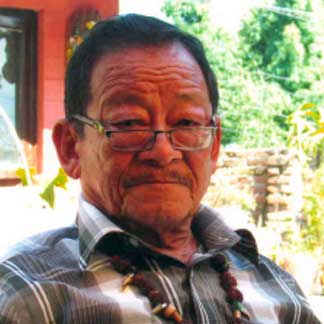 Mohan L. Rai, Founder and Director of Shamanistic Studies & Research Centre, was born to a farming family in Dorokha Bhutan in 1932. As a child, Mohan often helped his father, a powerful and well-known shaman, with healing rituals for the sick people of Dorokha and neighboring villages. His father hoped that Mohan would follow in his footsteps as a healer, and from his earliest childhood he seemed marked out by the spirits for this calling. However, Mohan was aware that his father's shamanic work kept him from earning enough to support his family. At the age of 17, Mohan joined a Gorkha regiment, soon rising to the position of Lieutenant, so that he could send money home.
After leaving the Army, Mohan worked as trekking guide based in Kathmandu and trained in mountaineering and rescue in the Alps. He quickly became fluent in a number of languages including English, German, Spanish, French, Sherpa, Tibetan and Hindi. During the period, he learned to understand western culture and thought, and became an expert in arranging for the comfort and well-being of visitors to the Himalayan mountains, including hikers, climbers, anthropologists and pilgrims for many lands.
Mohan never forgot his shamanic beginnings, but his father had died and it was too late to return to Dorokha. While working with foreign anthropologists, locating indigenous shamans for interview among and tribes of Nepal, he became aware that the shamanic traditions dying out among his people were of great interest to western students. He saw this interest as an opportunity to preserve some wisdom of his people, and founded Shamanistic Studies & Research Centre to bring shamans and western students together.